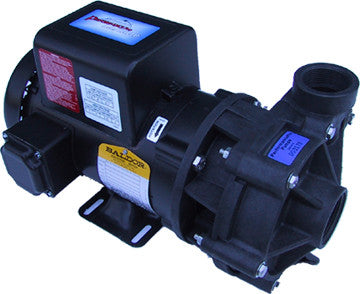 Performance Pro Cascade Low RPM
Performance Pro Pumps Cascade is a high efficiency, industrial grade pump. Ideal for ponds, water features, general transfer and recirculation applications.  Cascade pumps produce excellent flow rates at sustainable pressure (head) to provide outstanding performance. The industrial grade polypropylene housing is built for long term use.
A strainer pot may be attached to facilitate priming in a suction lift application and strain debris from the inflow.

Available in low RPM 1/8 to 1/4 hp @ 1725 rpm and hi RPM 1/3 to 2 hp at 3450 rpm.
• Cost effective and highly efficient.
• Long life, corrosion resistant, 316 Stainless Steel shaft seals.
• Pump performance can be easily altered with multiple impeller interchangeability options.
• Top-of-the-line motors. All 1725 rpm units are totally enclosed for excellent protection and long term reliability.
• Both pump ends and motors are designed for quiet operation.
• External out of water pumps help protect your investment from potentially dangerous oil leaks and electrical hazards.
• 3 year limited warranty (for fresh water applications).
---
We Also Recommend