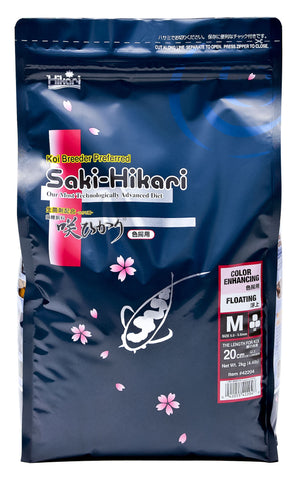 SAKI-Hikari Color
Koi Breeder Preferred
Aggressive Color Enhancing Diet
Saki-Hikari® Color is the most powerful color enhancing diet available today! Utilizing pure-select Spirulina, which naturally contains high levels of Zeaxanthin, we can offer you outstanding enhancement of the Hiban (red areas). Spirulina is also naturally rich in vitamins (B₁₂), carotenoids and minerals and is easily metabolized by koi. You can also be assured, because it's a Hikari® product, that no negative impact to the Shiroji (white areas) will be noted. Saki-Hikari® Color is so powerful, we suggest gradual introduction to your fish!
FEATURES
Exacting amounts of specially selected color enhancing ingredients promote vivid coloration.
Highly digestible and easily assimilated
No negative impact to the Shiroji.
Contains a source of live (viable) naturally occurring microorganisms.
Use in water temperatures above 68℉.
Floating pellet.
Note: The benefits of Saki-Hikari® are only valid with continued, uninterrupted feeding.
---
We Also Recommend