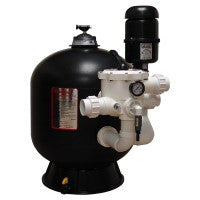 Aquabead Filter
The AquaBead series of filtration systems combine all the latest incremental improvements to provide the ultimate in pond filtration. Quality components and construction make the AquaBead a logical choice.
Swirl Input - Provides heavy waste settling while ensuring uniform distribution of flow through the bead media.
Sludge Removal Drain - Ensures complete removal of heavy wastes with each backwash.
Serviceable union drain valve.
Clear double union spring check valve.
Sturdy fiberglass construction.
High-flow, low-pressure systems that are designed for low amp draw pumps.
Complete hydraulic backwash with no dirty discharge to the pond.
Full feature, 6-position multi-port valve, the least restrictive valve available.
Life Support System allows for an optional air pump to oxygenate the filter during medical bypass or pump failure.
Small footprint - Ideal for space limited applications.
Easy installation
Air blower system included.
| MODEL | MAX. POND VOLUME | MEASUREMENTS |
| --- | --- | --- |
| AquaBead 1.75 | 2,500 gallons | 19" x 30" |
| AquaBead 2.5 | 5,000 gallons | 21" x 34.5" |
| AquaBead 4.25 | 10,000 gallons | 24" x 35.5" |
| AquaBead 6.0 | 17,000 gallons | 30" x 40" |
| AquaBead 9.0 | 25,000 gallons | 36" x 45" |
---
We Also Recommend